Enter content here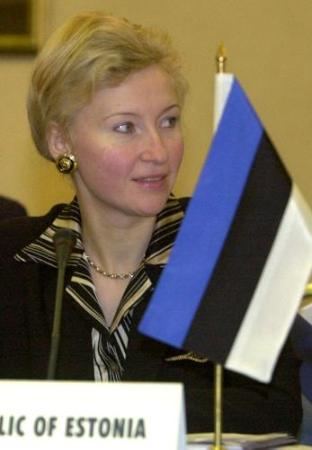 Estonian Foreign Minister Kristina Ojuland attends the "Vilnius Group" ministerial meeting to discuss the prospects for NATO enlargement with an additional 10 countries from central and southeastern Europe and the Baltic countries, Friday, March 8, 2002, in Macedonia's capital Skopje. (AP Photo/Boris Grdanoski)
Attack on Gas Station, Forest Fire Arsons.
Reality Macedonia
This is how terrorists celebrate adoption of Amnesty Law.
Tetovo, 08.03.2002 (Makfax) – Two unknown assailants opened fire late on Thursday (22:30 hours) at the gas station Petrol Company, on Skopje-Tetovo road. According to announcement by Crisis Management Center, the attackers wounded a gas station employee, ethnic Macedonian Cvetko Trpkovski (26).
Shootings of higher intensity were reported shortly after midnight Arachinovo village, near Skopje.
Volleys of automatic weapons fire were reported last night in Tetovo region, Kumanovo and Lipkovo region.
A fire burst out late on Thursday at 'Sveta Bogorodica' monastery, near the village of Matejche. Police suspects arson. Allegedly, criminals set this site on fire in order to cover the traces of illegal woodcutting.
Another fire was reported in Kumanovo region, at Vrelo, near the village of Vaksince.
GEORGE ROBERTSON WELCOMES ADOPTION OF LAW ON AMNESTY.
MIA
Brussels, March 8 (MIA) - NATO Secretary General George Robertson welcomed Friday the adoption of the Law on amnesty by the Macedonian Parliament, underlining that "it is new key element in the implementation of the peace plan."
As MIA reports, Robertson believes that the Law is a new stage in the implementation of the Framework agreement signed in Ohrid in 2001.
He hailed that Macedonian authorities and the deputies "for their vision and courage during the voting in favor of the Law, that proves the categorical engagement for accomplishing peace and stability and laying the cornerstones for reconciliation between the ethnic groups in the country."
It is believed that around 3,000 former members of the so-called NLA will be amnestied with the Law as well as other 250 persons against whom criminal charges have been pressed.
Macedonia Rebels Welcome Amnesty Law.
AP
By ERMIRA MEHMETI, Associated Press Writer
SKOPJE, Macedonia - Ethnic Albanian rebels on Friday welcomed a new amnesty law encouraging them to come down from highland strongholds and reintegrate into society as part of a Western-backed peace plan.
The law passed by the Macedonian parliament Thursday effectively frees from prosecution several thousand insurgents who took up arms last year to fight for greater rights for their community. The amnesty covers crimes including high treason, mutiny, armed rebellion and conspiracy against the state.
However, any war crimes committed during the conflict will be investigated and punished by the Netherlands-based U.N. war crimes tribunal for former Yugoslavia.
"This is a great step for peace," said Hajrulla Misini, a former rebel commander known by his nom-de-guerre, Shpati. "I see no reason any more for armed conflict in Macedonia."
Ali Ahmeti, a top representative of the insurgent group that disbanded after endorsing a Western-designed peace agreement in August, said the law "would lead to stability and confidence-building between the communities."
NATO Secretary General Lord Robertson said in Brussels, Belgium, that the amnesty was "critical" for lasting peace.
He also said Macedonia could continue to count on the 19-nation alliance's support. NATO extended its 1,000-strong peacekeeping force for three months in mid-February at the government's request.
Javier Solana, the European Union's top diplomat, called the amnesty "courageous" and said it shows "the will of the authorities and the citizens to close the chapter of crisis and conflict."
Militants within the ethnic Albanian community, which makes up nearly a third of Macedonia's 2 million people, battled government forces for six months last year struggling for equality with dominant Macedonians.
The amnesty law, the last key element of the peace pact, means former fighters "will be able to return to normal life, go back to their work, or serve in public institutions," Ahmeti said.
Other peace provisions ratified in recent months define broader rights for ethnic Albanians in government, police, army and education.
Hard-liners among the Macedonians had fought against the amnesty, opposing any concessions to the ethnic Albanians. One lawmaker, Stojan Popov, said Friday that he law degrades "the entire legal system."
The law is key to attracting millions of dollars in reconstruction aid pledged by the European Union and the United States if a peace deal was implemented fully.
In Geneva, a spokesman for the U.N. High Commissioner for Refugees said the law would encourage the returns of displaced persons within Macedonia and refugees in neighboring Yugoslavia about 26,000 people.
Insurgents also have relinquished their control of two-thirds of the 100 villages in northwestern Macedonia, the mostly ethnic Albanian-populated area. Authorities hope to re-establish control over the rest soon.
Bulgartabak Holding will increase its export to Africa.
News.bg

After several-month-long negotiations, Bulgartabak Holding made the first decisive step to increasing its export to the African market by signing on March 6 a contract for exporting 120 tons of cigarettes per month for Central African countries, the Bulgartabak Holding press-center reported. The Bulgartabak Holding factories in Haskovo, Stara Zagora, Plovdiv and Asenovgrad would produce the cigarettes. As for the tobacco buying-out campaign, Bulgartabak Holding would buy 28,996 tons of 2001-crop tobacco for BGN 97.54 mn.