Enter content here
EASTER MESSAGE OF SKOPJE'S BISHOP JOAKIM HERBUT.
MIA
On the occasion of the great Christian Holiday - Christ's Resurrection - Easter, the Bishop of Skopje Bishopric and an apostolic Exarch in Macedonia, Joakim Herbut, sent an easter message to the catholic citizens in the Republic of Macedonia during Saturday's night church service:
"Dear brother and sisters, Christ's resurrection, which we celebrate is the key event in our religion, our lives and the entire history.
It discovers the meaning of Christ's existence, his learning and his death on the cross. The Christ's resurrection reveals the meaning of our entire life, which sometimes in the everyday difficulties might not seem understandable and meaningful.
But, Christ's resurrection guarantees that the final goal of everything that happens in our life is not doom, or death but is a crossing, which brings us to eternal and happy life.
Therefore today we are joyful and delighted because Christ has risen from the dead, and with him we shall all resurrect and with him we shall eternally live," reads the Easter message from Joakim Herbut.
Tuberculosis Appears Among Macedonian Refugees in Kumanovo.
Reality Macedonia - Dnevnik
Translated by Natenane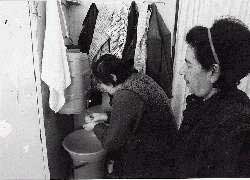 Refugees fear infectious diseases, as they are forced to live in unsanitary conditions.
Since what we are dealing with here is contagious disease everybody who has been in contact with the infected woman should be examined, says Doctor Ljiljana Simonovska.
One of the 160 internally displaced persons situated in Crystal hotel in Kumanovo has been diagnosed with tuberculosis. Team from Institute for Lung diseases and Tuberculosis in Skopje diagnosed the disease tuberculosis in 31 year old woman during fluorography test of displaced people who were situated in the hotel. People younger than 18 will be subjected to Mantoux test as well.
- This is the first case of diagnosed tuberculosis among the internally displaced persons. The disease is discovered in the primary stadium, it is light form of tuberculosis and there is no need to panic. We immediately hospitalized the woman and subjected her to therapy. However, all the people who were in contact with her should be examined since tuberculosis is a contagious disease.
Internally displaced persons and refugees are risky group, but we havent had a case of tuberculosis among them so far, said Doctor Ljiljana Simonovska, Institute manager, yesterday.
Dnevnik daily finds out that the sick woman is mother of two underage children, and that in the room opposite their, one new-born child was placed who will be examined as well. Out of record, during the period of one year in which displaced people have been situated in Crystal hotel, no tuberculosis control has been conducted until now.
- Tuberculosis can be transmitted by direct cough or kiss from the person who is sick. The bacillus is not transmitted by using the same eating utensils.
Tuberculosis in Macedonia is under control. There are enough medicines and the treatment lasts six months. It is very important to discover this contagious disease at the beginning. Meager food reduces immunity which is suitable for appearance of this disease says Doctor Simonovska.
(Lj.B.)
GREECE-FOREIGN MINISTERIAL-STATEMENT.
BTA
Athens, March 30 (BTA spec. cor. Nevjana Hadjiiska) - The Foreign Ministers of Bulgaria, Greece, Romania and Turkey are positive that in this historic moment of reshaping the European security system, the incorporation of the countries of Southeast Europe into NATO will promote security and stability in Europe. This believe is enshrined in a joint statement released by the four top diplomats Friday evening at the end of their meeting in the Greek capital.
Solomon Passy, Georgios Papandreou, Mircea Geoana and Ismail Cem met to discuss cooperation among the four countries in the process of preparation of Bulgaria and Romania for NATO membership and before the Prague summit of the Alliance this autumn.
They declared their support for the idea for a geographically balanced enlargement of NATO.
In their capacity as representatives of NATO member states, the foreign ministers of Greece and Turkey pledge firm support for the legitimate aspiration of Bulgaria and Romania to be invited as full members of the Alliance at its Prague summit. They underscore "the important contribution of Bulgaria and Romania to SFOR, KFOR, ISAF and operation Enduring Freedom and their acting as de facto members of the Alliance since September 11".
The four declare their intention to continue working closely until they meet next and use all possible instruments to support the southward enlargement of the Alliance.
They also hailed Hungary's commitment to NATO's southward expansion into Bulgaria and Romania and the support of Budapest for the ideas enshrined in the Istanbul statement of the foreign ministers of Bulgaria, Greece, Romania and Turkey.