Enter content here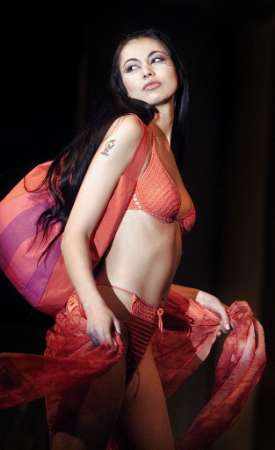 A model displays a swim suit as a part of Bulgarian fashion designer Marin Tconev's collection, in Sofia late March 29, 2002. REUTERS/Dimitar Dilkoff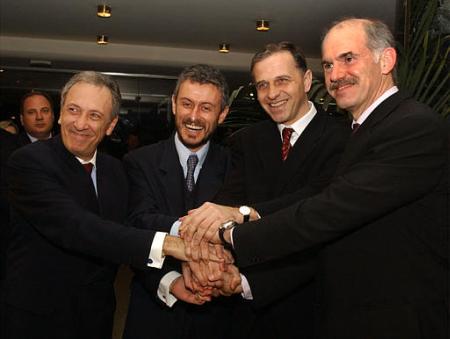 Foreign Ministers of Turkey Ismail Cem, of Bulgaria Solomon Pasi, of Romania Mircea Geoana and of Greece George Papandreou, from left to right, shake hands prior to their meeting in Athens on Friday March 29, 2002. Greece and Turkey, who have been NATO members for 50 years, are lobbying for the two former Soviet bloc countries to be invited to join NATO alliance's summit in Prague in November. (AP Photo/Aris Messinis)
Three Albanians Arrested After Armed Attack On Police Officer.
MIA
Kumanovo, March 29 (MIA) - Kumanovo police department has taken into custody three persons of Albanian nationality because of armed attacks on a police officer, while the fourth person that took part in the attack S.A. (20) is still on the run.
According to the Kumanovo police department, the incident occurred Thursday at 16.30h when S.A. along with his three friends attacked three police officers on "Vardarska" street at the moment when they refused to show their IDs.
S.A. opposed and attacked one of the police officers who suffered head injuries. One of the attackers pulled out a gun that he has illegally possessed, but the other two policemen prevented him from using it.
The injured policeman was admitted to Kumanovo Medical Center and after treatment was released.
Criminal charges were pressed against the three attackers.
Boy Thrashed for Not Speaking Albanian.
Vest
A group of hooligans severely beat 17-years old Predrag B. on "Cvetan Dimov" Street, the day before yesterday around 8:30 pm.
Four unknown young persons (aged approximately 16-18) stopped the boy at the public bus station near "Komercijalna Banka," asking him whether he can speak Albanian. The attackers assaulted Predrag as soon as he said that he can't. They violently started fisting and kicking him, and a one-meter long iron chain during the beating. The attackers left after accidental passers-by called the police.
SKOPJE-BALKAN POLITICAL CLUB.
BTA
Sofia, March 29 (BTA) - Former President Zhelyu Zhelev leaves for Skopje Friday to attend a meeting of the Balkan Political Club of which he is the chairman.
The Club will declare its support for the invitation of Bulgaria and Romania to join NATO during the Prague summit in the autumn, Dr. Zhelev told BTA.
In a special declaration the Club members will say that the two country's entry into the Alliance will strengthen its southern flank in a view of the situation in the Middle East and the ongoing operations in Afghanistan. "What we stress is that our countries recently acted as NATO allies," Dr. Zhelev said.
The Club will also adopt a declaration on security and stability in the Balkans.