Enter content here
Police And Press Not Welcome In Vaksince.
MakFax
Irina Gelevska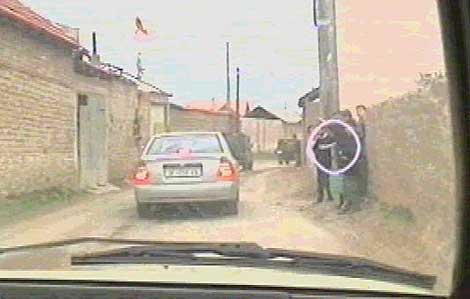 According to Sitel TV, this people had a gun in their hand, while the conwoy of cars were passing trough the village of Vaksince, Kumanovo Area.
Vaksince-Police patrols consisting of members of diverse ethnicity entered two villages in Kumanovo today, Lojane and Vaksince. The return of the police in Lojane went smoothly without any incidents. However, it was clear that the police officers in Vaksince were not welcome. They were insulted by the local villagers and children. "You're traitors!" was the message for the ethnic Albanian police officers who entered the village today, a stronghold of former NLA. Local villagers stoned the journalists from the TV crews of MTV, Sitel, and Channel 5, and the newspaper Dnevnik.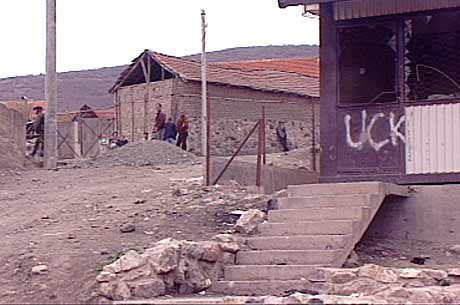 The representatives of OSCE, EU and NATO said two days ago that they would not tolerate anymore additional requests for the return of the police in the crisis regions. They have condemned today's incident in Vaksince saying that this does not help the return of confidence in the country.The police have entered all villages in Kumanovo region except the village Slupchane.
"Police was not welcome in Vaksince today. Villagers were particularly hostile to ethnic Albanian policeman, branding them 'traitors.' On the way to other village, Lojane, youngsters throw stones to four reporters cars", said for MAKFAX Dnevnik reporter Dejan Nikolovski, who escorted the reporters convoy. None reporter was injured and no cars were demmaged.