Enter content here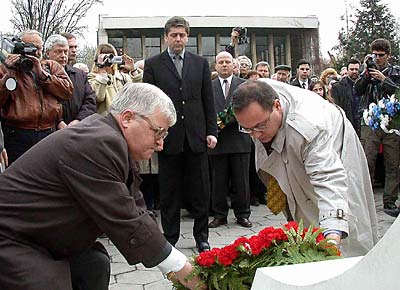 President Georgi Purvanov delivers speech and lays wreath at the Thanksgiving Monument in Plovdiv as part of the commemorations marking the Day of the Holocaust Victims and the Rescue of Bulgarian Jews. PressPhoto BTA Photo: Vladimir Yanev
Reserve Police Officer Vancho Risteski Killed.
MIA
Tetovo, March 10 (MIA) - Reserve police officer, Vancho Risteski, born in 1966 in the village Volkovija, was killed by unknown perpetrators at a police station in Tetovo.
According to police sources, Risteski was fatally wounded by the the fish pond region near village Volkovija.
Teams of Internal Affairs Sector, Basic Court and Basic Public Prosecution in Tetovo, accompanied by OSCE, are at the site and are performing an inspection.
According to Tetovo Medical Center, Vanco Risteski was immediately transferred to Tetovo surgery department, but without any life signs. His body is set at the service for judicial medicine for post mortem.
Risteski was a reserve police officer, but was not on duty and dressed in civilian clothes during the attack.
MACEDONIAN POLICEMAN KILLED BY ALBANIAN TERRORISTS.
Russian Information Agency Novosti
BELGRADE, March 10, 2002. /RIA Novosti correspondent Alexander Slabynko/ - A Macedonian policeman was killed in the town of Gostivar last night.
According to police reports, Vancho Ristovski was shot dead in an area populated by ethnic Albanians when he was returning home after he got off duty.
The policeman was killed three days after the Macedonian parliament endorsed a law pardoning rebels from the so-called National Liberation Army. This unlawful Albanian armed group has been officially disbanded, yet tensions in crisis areas which were controlled by the NLA remain high.
Reports about armed provocations by Albanian terrorists come from Skopje actually every day.
MINISTERS OF INTERIOR AND FOREIGN AFFAIRS, LJUBE BOSKOVSKI AND SLOBODAN CASULE IN TETOVO.
MIA
Ministers of Interior and Foreign Affairs Ljube Boskovski and Slobodan Casule Sunday paid short visit to Tetovo.
Minister Boskovski thereat evaluated that the situation in this region is making headway and that "the reflection of the peace is felt."
"I hope that after the adoption of the law on amnesty the peace reintegration in Tetovo will continue especially in areas which are still unsafe and that the local powerful men, quasi leaders, politicians and minor politicians and people of that type who do not want the peace, will stop to see their power in the weapons and the crime," Boskovski stated.
The law on amnesty enables them to reintegrate peacefully. "In opposite, all means are exhausted which they have so far as arguments to initiate restlessness at the citizens of Tetovo who lived peacefully before all these imposed situations," Minister of Interior said.
In regard to the possibility the Hague Tribunal to bring charges against him, Boskovski said the power of argument is ruling.
"We did not enter on foreign territory, we did not conduct the aggression we have defended our homes. It is guaranteed with the constitution and the law for which I have taken the oath before the parliament and the citizens and only before them I can be called to account," Minister Boskovski said.
Boskovski said that "all those that fabricate the international community and home ambitious politicians will be called to account that only through the Hague Tribunal see the hope that with political elimination of the Minister of Interior they can easily return on some ruling positions." He remains consistent in defending of the Macedonian sovereignty.
"I fear from the fact whether the peace will return in the Republic of Macedonia, whether the law on amnesty is the last matter which is needed to happen the constitutional - legal order to return again. This concerns me more than what will happen with my political carrier. I see my political carrier among you and my people to whom when it suffered the most difficult time I stand on defending Macedonia," Minister of Interior stated.
Minister of Foreign Affairs Slobodan Casule stated that "Macedonian Government is firmly determined not to be provoked by new crisis and conflicts."
"If this happens we are prepared to meet them. The international community will support us because we have fulfilled even more conditions and we have defended the border. Macedonia so far is stable country and every stroke on it will be a stroke upon all international order," Macedonian Foreign Minister said.
Regarding the Sunday's disapproval of the statements of the Kosovo Prime Minister Bajram Rexhepi in regard to Macedonian - Yugoslav border of the UN Security Council, Casule stated that Macedonia is full-fledged member of the UN and it should be respected.
"I expect the UNMIK Chief Michael Steiner on Monday to call on Kosovo President Ibrahim Rugova and Bajram Rexhepi to explain them what is local self-government and then to come to Skopje and to deliver speech what he has done. If they do not give a statement he is obliged to do so, if not we will demand he to be replaced. We will not retreat," Casule stressed.
DONORS' CONFERENCE FOR THE REPUBLIC OF MACEDONIA TO BE HELD IN BRUSSELS TUESDAY.
MIA
A Macedonian delegation, led by the Prime Minister Ljubcho Georgievski, will stay in Brussels Monday and Tuesday, March 11-12, to participate in the Donors' conference for the Republic of Macedonia. As expected, about 250 million are to be gathered at this conference.
The delegation is comprised of Finance Minister Nikola Gruevski, Vice-Premier Zoran Krstavski, Local Government Minister Fauk Arslani, Minister of Labor and Welfare Bedredin Ibraimi, Governor of the National Bank Ljube Trpeski.
As reported by MIA's reporter, Prime Minister Georgievski will have separate meetings with the NATO Secretary General George Robertson and the Chairman of the European People's Party, Wilfred Martins. He will also participate in the festive dinner, organized in his honor by the High Representative of the EU for Common Foreign and Security Policy, Javier Solana.
A briefing regarding the upcoming Donors' conference is to take place Monday at the offices of the European Commission, organized by Reinhardt Priebe, Director of the Directorate General on external relations at the European Commission, and Christian Portman, Coordinator for Macedonia and Regional Coordinator for Southeast Europe and Central Asia at the World Bank.
A preparatory meeting is to be held thereafter with representatives of the European Commission and the World Bank. Macedonian Vice - Premier Krstevski, Ministers Gruevski and Ibraimi and the Governor Trpeski will also participate in this meeting.
Krstevski is to have a separate meeting with Tribe, while Minister Gruevski is to hold a meeting also with the Executive Director Peter Steck from the World Bank, in the presence of Governor Trpeski.
In the time of the World Economic Forum, which took place at the beginning of February, Macedonian President Boris Trajkovski got assured by the representatives of the World Bank and IMF, that these International Financial Institutions will "strongly support" Macedonia at the donor's conference.
The World Bank's regional coordinator for Southeast Europe, Christian Portman expressed his belief that the International community will provide most of the financial means, which are currently necessary for the Republic of Macedonia.
In an interview with the radio Voice of America, for the Program in Macedonian language, Portman said that the potential donors that will participate in the conference in Brussels "were given clear information on the estimated needs and it is expected that mostly of these means will be put on table."
According to him, there are three main spheres that need to be financed. The first is rebalance of the Budget, "where the situation on how much money is needed is quite clear." The second sphere is the reconstruction, where according to Portman "there are concrete figures and many of these means were already implemented, i.e. numerous houses and school facilities were built or reconstructed."
"Still, the financial means for the sphere that was not that clear until recently, would cover the implementation of the Framework agreement. The question was, what does it mean and how much would each article of this agreement cost. Now, it has been determined, but we will also refer to this same topic in the year ahead of us," said Portman.
According to him, that is the price of decentralized government; equal presentation in the Public Administration; use of languages and some other measurements that lead to improved confidence building, police checkpoints and something like that, which is all being still developed."
"The preliminary assessment has already been made, but the donors were made clear that in case some additional requirements emerge, they will be supplemented within the system," stressed Portman. He believes that the donors' conference will contribute to improvement of the economy of the Republic of Macedonia and that this is the right moment for such support.
According to Portman, there is no reason why shouldn't Macedonia reach its economic level of the mid-nineties, when the investments were quite progressive and the country became reach enough to avoid the so-called "soft loans".
MACEDONIA.
BTA
Skopje, March 10 (BTA) - "I have no plans to establish a party of Bulgarians in Macedonia," 70-year-old former journalist and political prisoner Pande Evtimov told the BNT correspondent here on Sunday.
Evtimov described as "provocation" the information that appeared in the Skopje-based weekly "Start" that he plans to found a Democratic Party of Bulgarians in Macedonia and that he has even submitted the registration papers to the courts.
"I am a free and independent person and I am not afraid to speak my mind but the article in 'Start' surprises me since it is one of the most anti-Bulgarian publications in Macedonia," he said.
In his view, such erroneous publications aim to throw a shadow over the good Bulgarian-Macedonian relations and to diminish the effect of Bulgarian President Georgi Purvanov's last week visit to Skopje; Evtimov described the visit as very "good."
It is not unlikely that the article aims to discredit Evtimov himself. The latter knows the history of bilateral relations inside out and was one of the people that assisted the location of the graves of Bulgarian officers and soldiers who died on Macedonian territory.
The issue of locating and maintaining the physical appearance of the graves was raised by Purvanov at his meeting with Macedonian counterpart Boris Trajkovski.
"Bilateral relations do not need sensations," Evtimov concluded, adding that he is prepared to meet with Bulgarian journalists.
Bulgarian Jews commemorate Holocaust protest.
Online.bg
Hundreds of Jews gathered here on Sunday to commemorate the protests that rescued their ancestors from the Holocaust.
The ceremony, led by President Georgi Parvanov, marked the anniversary of protests by Bulgarian clergymen, intellectuals, politicians and others that stopped the Nazis from deporting 8,500 Jews. The protests sparked a policy that prevented the deportation of any Bulgarian Jews, although Bulgaria was allied to Nazi Germany.
The Nazis on March 9, 1943, brought 8,500 Jews to a square in Plovdiv, 160 km southeast of Sofia, in preparation for the deportation to concentration camps when the appeals from the protesters forced the government to stop the plans.
"It is a day of rightful national pride, it is one of the brightest accomplishments of the Bulgarian people during the World War II," Parvanov said during Sunday's ceremony, held a day later than the true anniversary to avoid a clash with the Sabbath.
Sunday's ceremony was the first to commemorate the action, but organizers hope it will become a yearly event. The ceremony was held on the Plovdiv square, which now holds a Memorial of Gratitude, erected by Bulgaria's Jewish community in 1998.
Israel's Ambassador, Emanuel Siessmann - who was born in Plovdiv and was one of those rounded up on the square- praised the actions of Bulgarians during at the ceremony. After 1948, about 45,000 Bulgarian Jews emigrated to Israel. Bulgaria's Jewish community now numbers about 5,000.
US-FOREIGN MINISTER-VISIT.
BTA
Foreign Minister Passy Arrives in Washington D.C.
Washington, D.C., March 10 (BTA correspondent Rumyana Kinkina) - Bulgarian Foreign Minister Solomon Passy, who has arrived here, told the Bulgarian journalists that accompany him that the main goal of his visit is to lobby for Bulgaria's NATO membership bid.
Bilateral relations, including cooperation within the UN Security Council, will top the agenda of Passy's meetings which start on Monday. He will meet with US Secretary of State Colin Powell, National Security Deputy Adviser Steve Hadley, senators and congress people.
Bulgarian Ambassador to the US Elena Poptodorova announced that the preparations for the visit here of Prime Minister Simeon Saxe-Coburg-Gotha, scheduled for early May, continue. The visits of parliamentary and government officials are also being prepared.
ROMANIA-PM-VISIT.
BTA
Bucharest, March 10 (BTA special correspondent Dimitur Anestev) - Bulgarian Prime Minister Simeon Saxe-Coburg-Gotha ended his two-day working trip to Romania with a visit to the tomb of brothers Hristo and Evlogi Georgiev, famous figures form the period of the Bulgarian National Revival.
Saxe-Coburg-Gotha told journalists has been assured by the Bulgarian Ambassador here that the tomb will be restored in the course of 2002.
Saxe-Coburg-Gotha paid the current visit at the invitation of Romanian counterpart Adrian Nastase. Romania is the first Balkan country he visited after taking office in the summer of 2001.
He described the results from his visit as more than positive and noted that informal contacts can be used to more easily solve problems in bilateral relations since they often prove more effective than official talks which can have a merely formal character.
During his visit, Saxe-Coburg-Gotha met with Nastase, Romanian President Ion Iliescu and Patriarch Teoktist. Saxe-Coburg-Gotha and his wife Margarita lunched with former Romanian King Mihai I and his wife Anna.
Bulgaria and Romania's future accession to NATO, bilateral cooperation, energy and transport issues were among the topics discussed during the visit.
RIVER SHIPPING-REVENUE.
BTA
Rousse, March 10 (BTA) - One third of the revenue of the Bulgarian River Shipping Corporation (BRSC) comes from the transportation of Hungarian grain via the Danube river to the Romanian Port of Constanta, BRSC director Dimitur Stanchev said.
In 2001, the BRSC vessels transported 150,000 tonnes of Hungarian grains. That volume is expected to top 300,000 tonnes in 2002 since Hungary plans to export no less than a million tonnes of grain this year. Since the Croatian Port of Rijeka, the best option for the worldwide export of Hungarian geography-wise, does not have silos for the storage of grain, the commodity is transported via the Danube to the Black Sea ports, Stanchev said.
Romanian and Ukrainian vessels also transport Hungarian grain. The Hungarian Mahart shipping company has all but ceased operation, BRSC said.
Three to four Bulgarian vessels transport Hungarian grain on daily basis but the pace of transportation has slowed down in the past couple of days due to the upcoming elections in Hungary and the support for the forint.
BRSC expects to be hired for the export of massive quantities of wheat produced in Vojvodina via the Port of Novi sad.
Bulgaria's largest opposition party elects former foreign minister as new party leader.
AP
SOFIA, Bulgaria - Bulgaria's largest opposition party elected a popular former foreign minister as its leader Sunday in a vote the party hopes will lure back disenchanted voters.
Nadezhda Mihailova beat her only contender, incumbent leader Ekaterina Mihailova 2,374 to 1,365. There is no relation between the two women.
Nadezhda Mihailova, 39, served as a foreign minister from 1997 to 2001, when her party, the center-right Union of Democratic Forces led the government. She was credited with policies that brought Bulgaria closer to membership in the European Union and NATO.
Last year's removal of EU visa restrictions for Bulgarians is considered her greatest success.
Mihailova hopes to reverse a massive loss of voters.
"I want that we return to truth, dignity, to give a chance to the youth," she said after her win.
Although her party has earned international reputation for introducing reforms, its credibility has been eroded at home by corruption allegations and its failure to improve dismal living standards. Ekaterina Mihailova and other party officials said Saturday they had covered up corruption within the party to keep it in power.
Prime Minister Simeon Saxcoburggotski's party won the June general elections and in November former President Petar Stoyanov a prominent Union of Democratic Forces member lost the presidential election to Socialist Georgi Parvanov.
Remember Kosovo in 1987? Report by the New York Times.
Reality Macedonia - The Centre for Peace in the Balkans - The New York Times
By DAVID BINDER, Special to the New York Times
The New York Times
November 1, 1987, Sunday, Late City Final Edition
Section 1; Part 1, Page 14, Column 1;
BELGRADE, Yugoslavia - Portions of southern Yugoslavia have reached such a state of ethnic friction that Yugoslavs have begun to talk of the horrifying possibility of "civil war" in a land that lost one-tenth of its population, or 1.7 million people, in World War II
.
The current hostilities pit separatist-minded ethnic Albanians against the various Slavic populations of Yugoslavia and occur at all levels of society, from the highest officials to the humblest peasants.
A young Army conscript of ethnic Albanian origin shot up his barracks, killing four sleeping Slavic bunkmates and wounding six others. The army says it has uncovered hundreds of subversive ethnic Albanian cells in its ranks. Some arsenals have been raided.
Vicious Insults.
Ethnic Albanians in the Government have manipulated public funds and regulations to take over land belonging to Serbs. And politicians have exchanged vicious insults. Slavic Orthodox churches have been attacked, and flags have been torn down. Wells have been poisoned and crops burned.
Slavic boys have been knifed, and some young ethnic Albanians have been told by their elders to rape Serbian girls.
Ethnic Albanians comprise the fastest growing nationality in Yugoslavia and are expected soon to become its third largest, after the Serbs and Croats.
Radicals' Goals.
The goal of the radical nationalists among them, one said in an interview, is an "ethnic Albania that includes western Macedonia, southern Montenegro, part of southern Serbia, Kosovo and Albania itself." That includes large chunks of the republics that make up the southern half of Yugoslavia. Other ethnic Albanian separatists admit to a vision of a greater Albania governed from Pristina in southern Yugoslavia rather than Tirana, the capital of neighboring Albania. There is no evidence that the hard-line Communist Government in Tirana is giving them material assistance.
The principal battleground is the region called Kosovo, a high plateau ringed by mountains that is somewhat smaller than New Jersey. Ethnic Albanians there make up 85 percent of the population of 1.7 million. The rest are Serbians and Montenegrins.
Worst Strife in Years.
As Slavs flee the protracted violence, Kosovo is becoming what ethnic Albanian nationalists have been demanding for years, and especially strongly since the bloody rioting by ethnic Albanians in Pristina in 1981-an "ethnically pure" Albanian region, a 'Republic of Kosovo' in all but name. The violence, a journalist in Kosovo said, is escalating to "the worst in the last seven years."
Many Yugoslavs blame the troubles on the ethnic Albanians, but the matter is more complex in a country with as many nationalities and religions as Yugoslavia's and involves economic development, law, politics, families and flags.
As recently as 20 years ago, the Slavic majority treated ethnic Albanians as inferiors to be employed as hewers of wood and carriers of heating coal. The ethnic Albanians, who now number 2 million, were officially deemed a minority, not a constituent nationality, as they are today.
Were the ethnic tensions restricted to Kosovo, Yugoslavia's problems with its Albanian nationals might be more manageable. But some Yugoslavs and some ethnic Albanians believe the struggle has spread far beyond Kosovo.
Macedonia, a republic to the south with a population of 1.8 million, has a restive ethnic Albanian minority of 350,000.
"We've already lost western Macedonia to the Albanians," said a member of the Yugoslav party presidium, explaining that the ethnic minority had driven the Slavic Macedonians out of the region.
Attacks on Slavs.
Last summer, the authorities in Kosovo said they documented 40 ethnic Albanian attacks on Slavs in two months. In the last two years, 320 ethnic Albanians have been sentenced for political crimes, nearly half of them characterized as severe.
In one incident, Fadil Hoxha, once the leading politician of ethnic Albanian origin in Yugoslavia, joked at an official dinner in Prizren last year that Serbian women should be used to satisfy potential ethnic Albanian rapists. After his quip was reported this October, Serbian women in Kosovo protested, and Mr. Hoxha was dismissed from the Communist Party. As a precaution, the central authorities dispatched 380 riot police officers to the Kosovo region for the first time in four years.
Officials in Belgrade view the ethnic Albanian challenge as imperiling the foundations of the multinational experiment called federal Yugoslavia, which consists of six republics and two provinces.
'Lebanonizing' of Yugoslavia.
High-ranking officials have spoken of the "Lebanonizing" of their country and have compared its troubles to the strife in Northern Ireland. Borislav Jovic, a member of the Serbian party's presidency, spoke in an interview of the prospect of "two Albanias, one north and one south, like divided Germany or Korea," and of "practically the breakup of Yugoslavia." He added: "Time is working against us."
The federal Secretary for National Defense, Fleet Adm. Branko Mamula, told the army's party organization in September of efforts by ethnic Albanians to subvert the armed forces. "Between 1981 and 1987 a total of 216 illegal organizations with 1,435 members of Albanian nationality were discovered in the Yugoslav People's Army," he said. Admiral Mamula said ethnic Albanian subversives had been preparing for "killing officers and soldiers, poisoning food and water, sabotage, breaking into weapons arsenals and stealing arms and ammunition, desertion and causing flagrant nationalist incidents in army units."
Concerns Over Military.
Coming three weeks after the ethnic Albanian draftee, Aziz Kelmendi, had slaughtered his Slavic comrades in the barracks at Paracin, the speech struck fear in thousands of families whose sons were about to start their mandatory year of military service.
Because the Albanians have had a relatively high birth rate, one-quarter of the army's 200,000 conscripts this year are ethnic Albanians. Admiral Mamula suggested that 3,792 were potential human timebombs. He said the army had "not been provided with details relevant for assessing their behavior." But a number of Belgrade politicians said they doubted the Yugoslav armed forces would be used to intervene in Kosovo as they were to quell violent rioting in 1981 in Pristina. They reason that the army leadership is extremely reluctant to become involved in what is, in the first place, a political issue.
Ethnic Albanians already control almost every phase of life in the autonomous province of Kosovo, including the police, judiciary, civil service, schools and factories. Non-Albanian visitors almost immediately feel the independence - and suspicion - of the ethnic Albanian authorities.
Region's Slavs Lack Strength.
While 200,000 Serbs and Montenegrins still live in the province, they are scattered and lack cohesion. In the last seven years, 20,000 of them have fled the province, often leaving behind farmsteads and houses, for the safety of the Slavic north. Until September, the majority of the Serbian Communist Party leadership pursued a policy of seeking compromise with the Kosovo party hierarchy under its ethnic Albanian leader, Azem Vlasi.
But during a 30-hour session of the Serbian central committee in late September, the Serbian party secretary, Slobodan Milosevic, deposed Dragisa Pavlovic, as head of Belgrade's party organization, the country's largest. Mr. Milosevic accused Mr. Pavlovic of being an appeaser who was soft on Albanian radicals. Mr. Milosevic had courted the Serbian backlash vote with speeches in Kosovo itself calling for "the policy of the hard hand."
"We will go up against anti-Socialist forces, even if they call us Stalinists," Mr. Milosevic declared recently. That a Yugoslav politician would invite someone to call him a Stalinist even four decades after Tito's epochal break with Stalin, is a measure of the state into which Serbian politics have fallen. For the moment, Mr. Milosevic and his supporters appear to be staking their careers on a strategy of confrontation with the Kosovo ethnic Albanians.
Other Yugoslav politicians have expressed alarm. "There is no doubt Kosovo is a problem of the whole country, a powder keg on which we all sit,"said Milan Kucan, head of the Slovenian Communist Party. Remzi Koljgeci, of the Kosovo party leadership, said in an interview in Pristina that "relations are cold" between the ethnic Albanians and Serbs of the province, that there were too many "people without hope." But many of those interviewed agreed it was also a rare opportunity for Yugoslavia to take radical political and economic steps, as Tito did when he broke with the Soviet bloc in 1948.
Efforts are under way to strengthen central authority through amendments to the constitution. The League of Communists is planning an extraordinary party congress before March to address the country's grave problems. The hope is that something will be done then to exert the rule of law in Kosovo while drawing ethnic Albanians back into Yugoslavia's mainstream.
International Community's Interventionism Inspires Satire.
Reality Macedonia - The Onion
As reported by The Onion, Volume 38 Issue 08.
U.N. Tribunal Swayed By Thousands Of Children's Letters To Milosevic.
THE HAGUE, NETHERLANDS— Members of the U.N. war-crimes tribunal were swayed in favor of former Yugoslav president Slobodan Milosevic Monday, when sack after sack of letters from children around the world were heaped onto the presiding judge's desk. "Dear Mr. Milosevic, please get out of jail soon!" read one letter from 6-year-old Brittany White of Houston. Another, from 10-year-old Xiang Xiu of Beijing, read: "We love you, Slobodan! The children of China pray for you!!!" Judge Richard George May, deeply moved by the outpouring of love, ruled that Milosevic is a treasure to children of all ages and then freed him with a bang of his gavel.
And another example, from the same source:
Northern Irish, Serbs, Hutus Granted Homeland in West Bank.
"In a bold gambit hoped to resolve dozens of conflicts around the world, the U.N. announced Monday the establishment of Ethniklashistan, a multinational haven in the West Bank that will serve as a new homeland for Irish Protestants, Hutus, Serbs, and other troubled groups."