Enter content here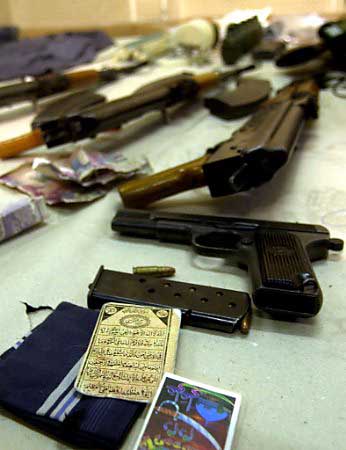 Macedonian police display weapons claimed to have been captured from 'Mujahideen terrorists' in Skopje March 2, 2002. Police said they had killed seven suspected 'Mujahideen terrorists' in an early-morning shootout in the northern outskirts of the capital Skopje. Police said they suspected at least some of those killed were from Pakistan and that they had been planning attacks on high government officials and embassies of foreign powers. (Ognen Teofilovski/Reuters)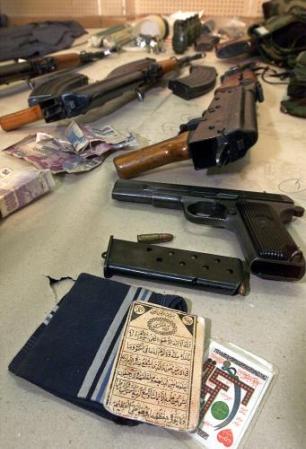 Weapons and personal effects belonging to gunmen killed in a shootout with Macedonian police are presented to the media just outside Skopje's suburb Butel, Saturday, March 2, 2002. Macedonian police killed seven gunmen in a shootout Saturday and said they were foreigners--probably Pakistanis--who were suspected of planning attacks on embassies in the volatile Balkan country. (AP Photo/Boris Grdanoski)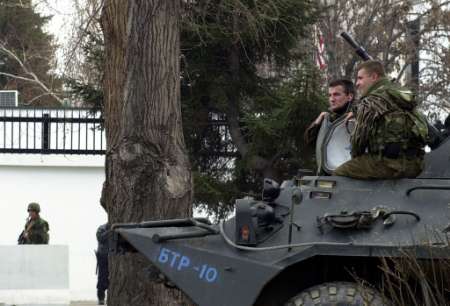 Heavily armed policemen guard U.S. embassy in Skopje, March 2, 2002. Macedonian police said on Saturday they had killed seven suspected "Mujahideen terrorists" in an early-morning shootout in the northern outskirts of the capital Skopje. Police said they suspected at least some of those killed were from Pakistan and that they had been planning attacks on high government officials and embassies of foreign powers. REUTERS/Ognen Teofilovski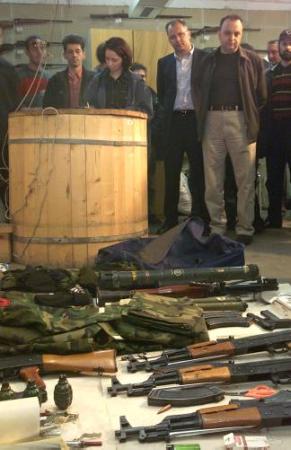 Macedonian Interior Minister Ljube Boskovski, right, looks at the weapons, ammunition and uniforms found in or near a van used by insurgents Saturday, March 2, 2002. Police returned fire after being shot Saturday morning, killing seven suspected terrorists, all of them foreigners, believed to have been planning attacks on foreign embassies, senior police officials said. The uniforms have shoulder patches of the NLA, a now-disbanded rebel group that fought Macedonian forces last year.(AP Photo/Boris Grdanoski)
Seven Mujahideens Die in Unsuccessful Attack on Police.
Reality Macedonia
The attack on the police patrol was apparently part of a wider plan. Macedonian security forces on high alert, securing American, British, and German embassies, preventing further Mujahideen attacks against NATO targets.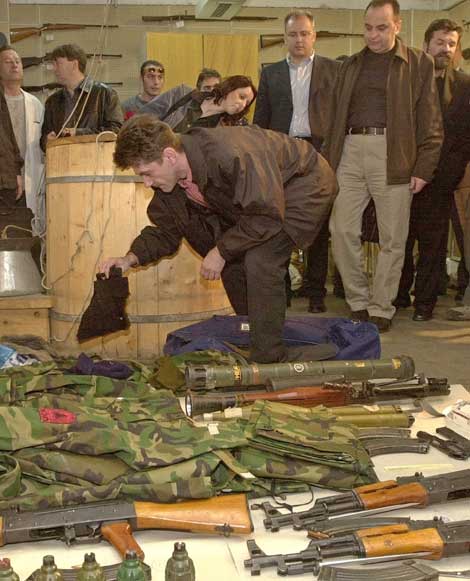 Minister of Interior Ljube Boshkovski inspecting the weapons and other materials confiscated from the Mujahideen.
According to the sources from Ministry of Interior, Macedonian police arrested four Mujahideen in Skopje 12 days ago. The police extracted information that they were part of a larger Islamic terrorist network, planning to attack Macedonian and NATO facitilies in the country.
As a reaction, special forces of Macedonian police deployed around the embassies of the United States of America, Great Britian and Germany, steeping up the security measures, and intensified patrolling in the critical areas, as pinpointed by the arrested terrorists.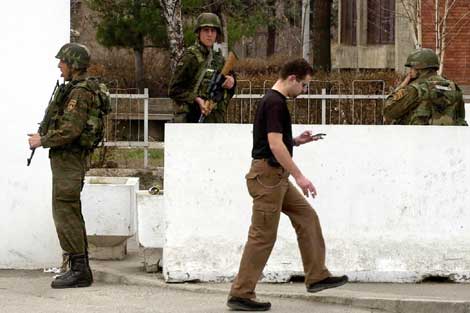 Macedonian security forces guard the U.S.A. embassy in Skopje.
Saturday, at about 4:00 a.m., an armed group of seven men attacked a police patrol in the area of Rashtanski Lozja district [Rashtan Vineyard], near Ljuboten north of Skopje. Ministry of Interior informed that the Macedonian Security Forces appropriately responded to the attack.
The official report announces that all seven, still unidentified assailants died in the shooting. Macedonian security forces suffered no casualties.
An executive judge, first public prosecutor and an expert team of the Ministry of Interior carried investigation at the scene of the crime, and determined that the group was armed with four machine guns, eight China-made hand grenades, eight hand-held rocket launchers and a radio station. The bodies of the terrorists will undergo further investigation in the Institute for Forensic Medicine.
MIA, citing the official report, states that "the process of identification of the persons is ongoing. According to the preliminary information, they are foreign citizens."
Although the majority of foreigners who participate in Albanian terrorist campaign against Macedonia are Kosovar Albanians, Reality Macedonia sources claim that in this particular case, according to initial information, the attackers are non-European Islamists.
Later during the day, A1 TV News reported more details about the incident. Macedonian police arrested the first Islamist group in front of the German embassy in the center of Skopje. Members of the group are two Jordanians and two Bosnians who study in Jordan.
Upon the arrest, the police confiscated computer disks containing 12,000 pages of information about the wars in Bosnia, Croatia, Kosovo, and Macedonia. Analysis of that material revealed some of the intentions of the terror network: commiting attacks on the Macedonian government officials and foreign embassies.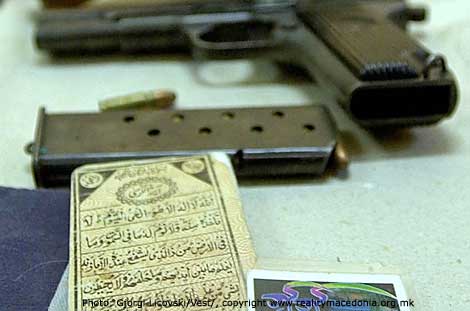 Part of the concealed weapons from the killed Mujahideens.
Macedonian security forces intensified patrolling, and this morning at 4:00, seven unknown persons were noticed exiting a van, coming from an unknown location north of there, in Rashtanski Lozje. The police approached the group and told them to stop. The group members opened fire and died in the shoot-out. Their identity remains unknown, although the police suspects that they are Pakistanis. Besides weapons, they had prayer books and other religious materials with them.
High government officials stated that they do not suppose that this attack is an innuendo into the announced Albanian terrorist "spring offensive," but nevertheless remain prepared to defend the country.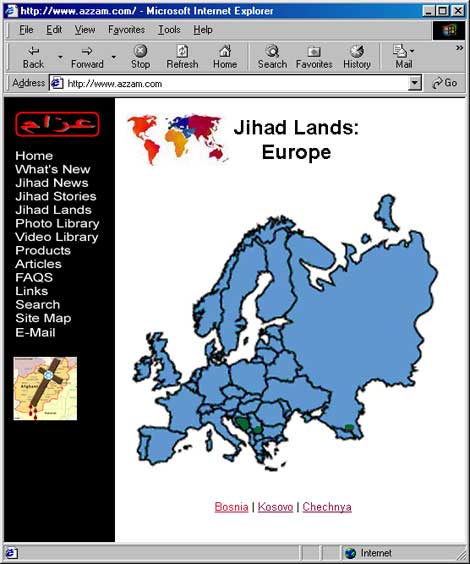 Screen capture of Azzam.com page, the site pinpointed by BBC as genuine Jihad recruiting facility.
Refresh your memory:
Information from our archive about another terrorist ambush, and its victims. You can find more info about Vejce massacre by reading the The White Book On The Terrorism Of The So-Called NLA containing official police data, including forensic photos of massacred victims of Albanian terrorism [not for sensitive persons].
For comparison, you can also check out how Al-Qaeda sponsored Chechen terrorists do their ambushes. Gruesome content, including Islamists displaying internal organs of killed Russian soldiers. Source: Azzam.com a site devoted to promotion of Jihad.
Coincidently, Azzam lists Kosovo as one of the "Jihad lands." Recently, BBC run a story on Azzam, confirming its authenticity. Its section on Bosnia sports "inspiring" stories about international Islamic "martyrs" who "went to Allah" while attacking the Christian Serbs. The part about how they sacrificed their lives with a smile on their face, or not even flinched while being hit by bullets eerily resembles the tales of "heroes" of Albanian terror in Kosovo.
Macedonia Says Seven 'Mujahideen' Shot Dead.
Reuters
By Ana Petruseva
SKOPJE (Reuters) - Macedonian police said on Saturday they had killed seven suspected "Mujahideen terrorists" who appeared to have been planning attacks on government officials and foreign embassies.
Police said all seven suspects were killed in an early morning shootout on the northern outskirts of the capital Skopje and they believed at least some of the dead were from Pakistan.
"They planned attacks on important buildings and foreign diplomats most probably from the US, Germany and the UK -- those that were involved in the fight against global terrorism," said Macedonia's Interior Minister Ljube Boskovski.
But officials from NATO, the Organization for Security and Cooperation in Europe and the U.S. all said they had no prior knowledge of any threats to diplomatic missions in Skopje.
"At this time we have no information and are not aware of any indication that there was a specific threat to the embassy," a statement released by the U.S. embassy said.
One Western diplomat voiced alarm over the incident and the way it had been handled by police.
"We are very concerned," the diplomat said. "If there was an imminent threat, why were we not informed previously?"
The shootout took place in the suburb of Rastanski Lozja, on the road to the village of Ljuboten, the scene of serious fighting between government troops and ethnic Albanian rebels during last year's conflict in the former Yugoslav republic.
An interior ministry official also said authorities believed the suspects had been working with ethnic Albanian rebels, as police had seized uniforms bearing their insignia at the scene.
Four machineguns, eight hand grenades and two hand-held rocket launchers were also recovered, police said.
Macedonia's government has said in the past that "Mujahideen," foreign fighters from Muslim countries, were involved in last year's Albanian insurgency. Western officials have been skeptical about the claim.
BLOODSTAINS.
Television footage from the scene of Saturday's shootout, a dirt road between two large vineyards, showed bloodstains on the ground and a heavy presence of police guards.
The interior ministry initially said that the suspects had attacked a police patrol, but a later statement said police had previously planned to move against the group.
"Our people knew that the terrorists were coming with a van so they were prepared," a senior interior ministry official said. He said police had first fired warning shots, but the suspects then opened fire.
"There are some unanswered questions that raise concern," the diplomat said. "If this didn't happen as they (police) said, then this seems very much like an execution."
Police said none of their officers had been wounded in the shootout and that they had been aware of the existence of the group for around 15 days.
They said they learned more after the arrest of a four- member "Mujahideen" group, two Jordanians and two Bosnians who had studied in Jordan, in the center of Skopje 10 days ago.
Computer diskettes seized from that group showed evidence of attacks being planned on foreign embassies, police said.
"The events show that Macedonia is also a target of global terrorism," a government official said.
Police also said they had strengthened security around embassies that might be targets of an attack.
Around 15 heavily armed policemen with an armored personnel carrier were outside the U.S. embassy in Skopje on Saturday, while security around other embassies was as usual.
A former commander of the ethnic Albanian rebels who agreed to disband last August, as part of a Western-backed peace plan to end Macedonia's conflict, said they also believed those killed on Saturday were foreign citizens.
"It seems they are not Macedonian citizens but we're not sure which country they're from," said a former guerrilla commander, codenamed Cela.
Macedonian Police Kill Seven Men.
AP
By KONSTANTIN TESTORIDES, Associated Press Writer
Police said they killed seven men who opened fire at a patrol near the capital Saturday and described them as foreigners probably Pakistanis suspected of planning terrorist attacks on Western embassies and Macedonian officials.
The men tried to ambush a police patrol near Butel, a suburb of Skopje, Interior Minister Ljube Boskovski said. He said they opened fire with machine guns when police told them to identify themselves, and police fired back, killing all seven. Officials said no police were hurt.
"They are probably Pakistani citizens," Boskovski told reporters. "That terrorist group was in the area with an aim of attacking vital installations, Macedonian officials and the embassies of Germany, Great Britain and the U.S. in Skopje."
Police officials said they found seven AK-47 assault rifles, several hand grenades and ammunition in or near the van the men used.
Boskovski did not provide any details about the suspected plans for attacks. The U.S. Embassy released a statement that said U.S. personnel were "not aware of any indication that there was a specific threat" to the embassy.
A senior law enforcement official, speaking on condition of anonymity, said interrogation several weeks ago of two Jordanians and two Bosnians revealed links to a group planning to kill government officials and attack the American, British and German embassies in Skopje.
Security measures were subsequently increased, he said.
Western officials speaking on condition of anonymity said heightened security measures were in effect at some of their embassies. More than a dozen police officers were seen posted around the U.S. Embassy compound after the clash a larger number than usual.
In addition to the weapons, a police statement said security forces at the site of the clash found uniforms with shoulder patches of the National Liberation Army, an ethnic Albanian rebel group that fought Macedonian forces in an insurgency last year but is now disbanded.
Rebels began fighting in February 2001, demanding more rights for ethnic Albanians who make up nearly one-third of the population of 2 million in the former Yugoslav republic.
The fighting killed dozens of people and drove thousands from their homes before a Western-brokered peace deal was signed in August.
Rebels abandoned their fight and surrendered thousands of weapons to NATO troops in exchange for reforms granting ethnic Albanians more rights, but the pace of the changes has been slow and ethnic tension lingers.
BULGARIA - PARLIAMENT - CHAIRMAN - TIRANA.
BTA
Sofia, March 2 (BTA) - National Assembly Chairman Ognyan Gerdjikov leaves for Tirana March 4 to attend the 3rd Conference of Southeast European Heads of Parliament March 4-5, according to a National Assembly press release.
On March 6 and 7 the parliamentary delegation headed by Gerdjikov will be paying an official visit to Tirana. The programme of the visit features talks with the Albanian President and the country's Parliament Speaker, Prime Minister and Foreign Minister as well as the parliamentary committees on foreign policy, on defence and public order, on mass communication, and on education, culture, science and sport.
Each parliamentary group will be represented on the visiting delegation by one member, besides the delegation leader.
Gerdjikov is scheduled to unveil a statue of St Angelarii at the Bulgarian Embassy on March 4. The event is designed to leave a physical symbol of the age-old relations between the two peoples on the occasion of Bulgaria's National Day, March 3.
Actors Help Kids Prepare for Test.
AP
By GREG TOPPO, AP Education Writer
ARLINGTON, Va. (AP) - "ZIP!" The Bulgarian actress, her manicured nails painted a deep red, points to the fourth-grader with the long pony tail. "Woodrow Wilson," the girl responds, looking at a picture held by her neighbor.
"ZAP!" The actress moves to the next student. "William Henry Harrison."
Every Wednesday, Lilia Slavova uses dramatic techniques to teach state history including the names of Virginia-born presidents_ at a public school near Washington, D.C. The result, educators say, is higher scores on the state's standardized tests.
While purists might question the usefulness of theater games to boost test scores, supporters say the program has been a big hit in a state that increasingly relies on such measures.
During a recent class at Hoffman-Boston Elementary School, Slavova unwrapped her fur stole and guided 37 pupils through warm-up exercises. The stretching complete, she clapped her hands and gathered the children into circles to begin the day's work: memorizing the names of the eight Virginia-born U.S. presidents.
It's a requirement taken right from Virginia's demanding Standards of Learning, or SOL, test for fourth-graders, which they must pass this spring.
Thus began the "ZIP/ZAP" game, in which students must look left or right at the photocopied pictures of presidents held by their neighbor.
Slavova urged the students to stand tall and speak clearly. She already has taught them to rely on "all the little connections" actors use for lengthy scripts. They remembered, for instance, that the "M-a" in James Madison comes before the "M-o" in James Monroe, but that the "T-y" in John Tyler comes after the "T-a" in Zachary Taylor.
"It's fun we're playing a lot of games," said Anthony Reyes, 10. He named six of the eight presidents, but watched as classmate Carlo Goyone named all eight in order. Slavova gave an enthusiastic thumbs-up. "Yes!"
After 90 minutes, Jennifer Pauldurai, 10, the pony-tailed girl whose family emigrated to the United States from India, said, "It seemed like five minutes."
The program was developed by Classika Theatre, a local troupe with roots in Eastern Europe that received a $500,000 grant from the U.S. Education Department. That money could be in jeopardy, however, as government budget cutters search for cash for other education programs.
Eventually, the Hoffman-Boston students will memorize a 15-page musical play titled "We Love Virginia," tracing Virginia history from 1607 until the mid-20th century.
"American kids are not taught this way," said Inna Shapiro, the group's Russian founder and artistic director, referring to Slavova's constant demand for discipline, clear speech and the ability to recite facts. "It was all new to them."
Shapiro said her secret is simple: Get children on their feet and give them a part to play.
"By hearing it and repeating it many times, they understand it," she said.
Such unorthodox means are gaining popularity as teachers look for ways to help students digest and understand history, said Al Frascella of the National Council for the Social Studies.
"Right now it's quite common," he said.
Frascella and others said using drama often helps students memorize material better than rote memorization.
"When a kid participates in a play, it's going to stick in your mind much better than someone reading it or rereading it," he said.
Susan Adler, who teaches curriculum design at the University of Missouri-Kansas City's School of Education, said fact-heavy testing such as Virginia's SOL often drives what is taught, so teachers might as well make it fun.
"Some of that is not bad you try to get kids to memorize, and that's useful, but you need to keep it in its place," she said. Adler warned that teachers should also keep an eye on the "bigger picture," understanding the context in which events happened.
Jan Adkisson, the principal of Drew Model Elementary School, where the program debuted last year, said Classika helped raise fourth-graders' SOL scores 25 percent last spring.
She said the program is perfect for the thousands of children, most of whom speak English as a second language, who do not do well regurgitating facts from a textbook.
Frances M. Redmon, a member of the Virginia Commission for the Arts, saw the play last spring at Drew.
"It just blew me away," she said.
Imagine her reaction next year: Shapiro plans to tackle the state's chemistry test.