Enter content here
Albanian Bulldozers Tear Down Macedonian Houses.
Dnevnik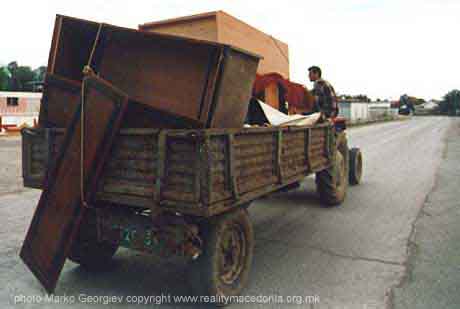 A lifetime in a trailer: Destruction of non-Albanian houses in Matejche sent a wave of Macedonian and Serb refugees from the villages in Kumanovo region. Photo made June 15, 2001.
By Dejan Nikolovski
The Albanians of the Kumanovo village of Matejche used construction machinery to tear down all the houses of their Macedonian and Serb neighbors driven out of their homes during the military crisis. They set fire to the houses first and then tore them to the ground with bulldozers. The displaced Macedonians and Serbs say the Albanians did that to prevent them from returning home. In order to partially conceal the traces of the ethnic cleansing, the Albanians extended the streets in the part of the village where the houses of the Orthodox community once stood. By doing so, they wanted to stash away for good their exact size and location.
Ownership papers may prove the size, but not the exact location. Yet another problem is that many of the displaced villagers have no ownership documents and they left in the village large houses, agriculture machinery, livestock and other property of value. The Macedonians and the Serbs of Matejche know their neighbors robbed and set their houses on fire. The village has about 750 houses, 126 of which belong to Macedonians and Serbs. Although ethnically-mixed police teams patrol through the villages six hours a day, the displaced Orthodox inhabitants have no intention whatsoever of going back. They are outraged and disappointed with the hypocrisy of their Albanian neighbors.
"On one hand the Albanians appeal to us through home and foreign media to return to Matejche, but on the other hand through contact persons they send messages to us never to even think of going back since Orthodox people do not belong there any more," a Macedonian from Matejche recounts.
Their message reportedly goes in particular for twenty young people from Matejche who were drafted as Macedonian army and police reservists at the time of the armed clashes. However, both the Macedonians and the Serbs say they do not want to return to the village and live side by side with terrorists. They maintain that all the Albanians from Matejche were "NLA" members.
"The fact that our children put on uniforms and took up arms to defend their country must not be held against them. If the Albanians are grumbling, what are we supposed to do? Our Albanian neighbors robbed and destroyed our houses, while some of us were taken hostage and physically harassed. No one can guarantee that if we go back to Matejche, the Albanians won't point guns at us and do us harm. Let's face the fact, they still have weapons and no one can control them," say displaced Macedonians and Serbs.
Matejche is today an ethnically clean village. The Albanian houses that were partially damaged by shelling have been repaired. Foreign humanitarian organizations distributed aid to those who remained in Matejche, mostly Albanians, as the houses of the expelled Macedonians and Serbs constitute but gloomy piles of debris and rubble.
Another Macedonian House Burns In Opae.
MIA
Skopje, February 9 (MIA) - Police patrol Friday night around 22:50 hours noticed fire in the house of Trpko Stojanovski, which is assumed to be set, Zoran Tanevski, Spokesperson of the Coordinative Body for Crisis Management, stated. The fire has been extinguished around 23:50 hours where the roof has been burnt. The doer of this act is still not known and the investigation will be conducted during the day.

Tanevski said seven times the public order and peace have been violated in Kumanovo region Friday night, and 22 times in Tetovo region. The shootings have not been directed at the positions of the Macedonian security forces.

Patrolling of the police in the villages of the crisis regions is continuing without problems.
Fazli Veliu Urges Making Of Road Blocks.
Reality Macedonia - Nova Makedonija

By M. Andonovska
Translated by Natenane

Nova Makedonija daily finds out that Fazli Veliu, one of NLA founders, has been meeting relatives of six missing Albanians, urging them and their close friends to set road blocks aiming to make pressure on international community to find out the truth about them. According to information of Nova Makedonija daily, Veliu misused the fact that great part of missing people bears the same last name as his, persuaded the families of missing people that they were relatives and that they should fight together so that missing people are released. During that whole time he persuaded them about having information that missing Albanians were alive, but that they were kidnapped by Macedonian police that allegedly keeps them in houses in Bitola and Prilep. Nova Makedonija daily finds out that Veliu presented this as scenario of Macedonian police by which it allegedly wants to swap (Albanians) for kidnapped Macedonians.

In this whole story, according to information that Nova Makedonija daily obtains, besides Veliu, the vice-president of Macedonian Parliament, Sulejmani, participated as well, and he had direct encounter with relatives of missing Albanians couple of days ago. According to sources of Nova Makedonija daily, he asked missing peoples families to take more aggressive approach so that they could find out the truth about their relatives. Anyway, Velius aim, according to Nova Makedonija sources is to trigger new stir in Macedonian public as well as intolerance between relatives of kidnapped Macedonians and Albanians.

Interior Ministry categorically denounced such speculations as untrue, claiming that this is only one of many scenarios whose aim is to instill intolerance and cover up the case of kidnapped Macedonians.